C
ombine colors of your Designer European Style Bath Sponges by Skin Triks. They are hygienic cleansing and have remarkable exfoliating effects.
 They're easy to use yet fast and invigorating.  The dual texture, exfoliating on one side and soft on the opposite side - for beginners or babies.  Use the SpongEEZe sponge all over your body each time you shower.  You'll feel the exfoliation and microdermabrasion.
 And to clean your Skin Triks Bath Sponge, as you finish showering re-lather with soap and water and rinse.  That's it - and it's ready for re-use.
The Skin Triks Exfoliating sponges are designed to create a rich lather, whether used with liquid or bar soap.  They dryquickly, maintaining flexibility and softness.  When bathing, you can use either one of two textured sides for your skin, or if you prefer, you can use the narrow side and enjoy both textures at once.
With Skin Triks Designer Exfoliating Bath Sponge, by exfoliating you remove dead skin cells, thereby leaving your skin smooth and radiant.  Wether it's bikini season or if you just want clean, soft skin, you'll become glowing by exfoliating your sking from head to toe.

More Information
Product Features

Skin Triks Exfoliating Bath SpongEE exfoliates while giving you an invigorating, hygienic cleansing that's very thorough.
Fast and ready for re-use - clean you SpongEEZe while still in the shower or tub - just re-lather, rinse, and squeeze dry.
The Designer Exfoliating Bath SpoingEEZe exfoliating side helps in reducing Cellulite reduction.
Dual textured for a luxurious experience with true microderabrasion on one side and on the other, holds a rich lather and is soft enough for baby.

Net Weight
N/A
Country of Manufacture
United States
Size
Approx. 5.625" x 3" x 2" Thick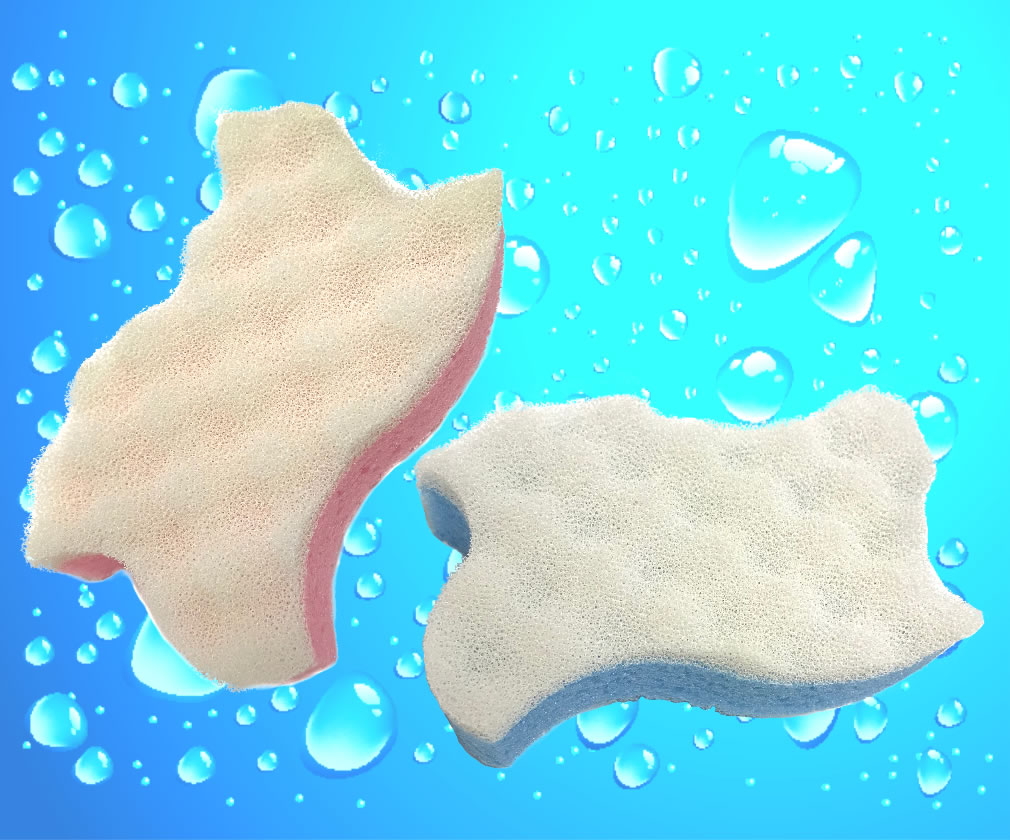 M
icrodermabrasion helps to diminish the appearance of superficial hyperpigmentation and similarly reduces the appearance of photo-damage and fine lines, wrinkles, ace, and shallow acne scars. Additionally microdermabrasion enhances the penetration to the skin by other skin creams and serums. &nbap;By the removal of dead skin (startum corneum) significantly aids in the penetration of skin care medications and other products byup to 10% - 50%. Controlled exfoliation as provided by microdermabrasion enhances the ability of self-tanning and makeup products to apply much more smoothly.
Similar to brushing one's teeth to remove plaque, microdermabrasion ("microderm for short) helps to exfoliate - temporarily remove - a few of the top layers of the skin collectively called stratum corneum. Human skin regenerates in approximately 30 days so that microderm abrasion should be repeated at an average of two to four weeks, yielding continuing improvement. Repeated treatments combined with sunscreen, sun avoidance, and skin care creams yields excellent results you'll love.
Using the Skin Triks Exfoliating Spoing once or twice a week on the rougher microderm side, is enough in most cases, to achieve smooth, silky skin. Women with oily skin should exfoliate more often. If you notice that your skin should become excessively dry or irritated after exfoliation, scrub more gently and/or reduce the frequency with which you exfoliate - or simply use the softer side of the Skin Triks sponge.
As it is, many women exfoliate their face and ignore other body parts. As the weather heats up and you become bikini-ready, it's a good idea to exfoliate all over. It's also important to exfoliate prior to the application of tanning products and when rejuvenating winter-weary skin.
New cells are constantly generated by the skin at the lower layer (dermis), and sending them to the surface (epidermis). On their way to the surface the cells slowly die and become filled with keratin. These keratinized cells are important to the skin because it gets its protective quality from them. But those same keratinized cells are in a constant process of sloughing off to make way for younger cells. As the body ages, the cell-turnover process slows, and cells begin to pile up unevenly on the surface of the skin - often giving it a dull, dry, rough appearance. Exfoliation is beneficial to the skin because it removes the accumulation of cells clinging on, revealing the fresher, younger skin below.
It is possible over-exfoliate. This is especially true for the delicate skin of the face. This will result in dry, irritated skin. If you're new at this, go easy at first. You might also talk to a good esthetician about the Exfoliating Sponge and frequency which is best for your skin.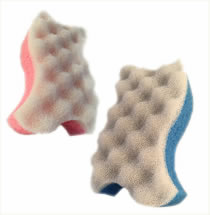 M
en deserve a younger, healthier appearance just as much as do women. There exists a top of layer of dead, dry, damaged skin cells on all skin. But since women tend to take better care of their skin, men's skin has a greater propensity to age than does women's skin.
Microdermabrasion done by professionals work for men too. But now men can have the rejuvenation applied to wrinkled, ageing, and sun-damaged skin by using the Skin Triks Designer Exfoliating Bath Sponges - especially if you don't have the patience for a typical skin-care regime. Just use the exfoliating side of the Skin Triks Exfoliating Designer Sponges all over your body each time your shower. The opposite, softer, side can be used until you adapt to this new level of cleaning. Gradually you'll adapt to this new level of cleaning and gradually transition to the microderabrasion method of bathing.
For the man or woman that works with his or her hands, the Skin Triks Designer Exfoliating Bath Sponges will work like a miracle in removing the toughest dirt on the skin - dramatically faster and more completely than a washcloth.
It's best to replace the sponge after 30-60 days, depending on the frequency of use.