More Information
Product Features

Low-frequency 3D pulsations clean deeply and are anti-aging. 1,500 hypo-allergenic medical-grade silicone bristles provide extraordinarily deep cleaning - without abrasives.
The short and thicker bristles at the tip and back of the device are usually used for deep clean the difficult areas such as the nose, ears, and around the hairline.
The bristles at the back of the device can be used as a gentle skin exfoliator, usually recommended for stronger skins, people trying to get rid of tanning, or males with thicker skin, and facial hair.
Pulsations ready the skin to better enable penetration of molecules from serums and moisturizers; a dramatic boost for your skin health.
Completely waterproof. Use in the shower, at the sink or anywhere. Dermatologist recommended, and anti-bacterial. Travel pouch included. USB Charger included - plugs in to any laptop or USB charging device.

Net Weight
N/A
Country of Manufacture
Taiwan, Province of China
Size
Pack
T
he leading skin care product on the market is the LUCE Pulsating Facial Cleanser with over 1,500 of the highest quality silicone bristles.  3D low-frequency pulsations accomplish deep cleaning and promote anti-aging.
The bristles are hypo-allergenic medical quality and will yield the deepest clean possible every time - and without abrasives.  Additionally, the low-frequency pulsations can give your circulatory system a boost, ensuring a plentiful quantity of oxygen finds its way to your face.  After a daily 2-minute treatment, the pulsations prepare the skin for easy penetration of the molecules of serums and moisturizes, thereby dramatically improving your skin health.
Every day your skin is aging and the seemingly ordinary process of cleansing properly before bed and in the morning mitigates the aging process by stimulating internal processes that fight aging.  Cleansing at night before bed is essential for enabling anti-aging ingredients.  At night, blood flow to the skin is naturally higher enabling increased absorption and penetration of ingredients.
The LUCE Pulsating Silicone Facial Brush warms up the skin and gets the blood closer to the surface which in turn allows molecules in serums and moisturizers to penetrate more efficiently.  Even though the boost in circulation is temporary, the vibration contributes to long-term anti-aging by preparing the skin for absorption of topical skin care products.

Before-and-After Photos
Left-hand photos are "before".
Acne and Blemishes
Deep cleaning by the LUCE 180 takes away sebum and debris stuck in your pores. In addition, circulation is enhanced by the vibration, bringing blood to the dermis which helps to reduce the size of the pores. Puffiness is also reduced while elasticity and moisture retention are also improved.

The silicone bristles of the LUCE 180 are bacteria-resistant which makes it one of the safest and most hygienic facial cleansers available.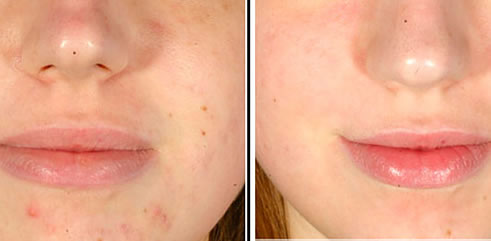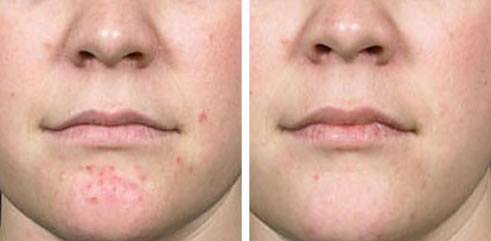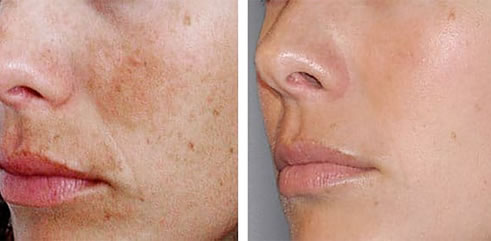 Pore Reduction
The pores expand when sebum becomes stuck in the pores and causes inflammation. Use the LUCE 180 for 2 weeks to help keep your pores clear. You'll see the pores decrease in size; their diameter shrinking, and returning to a circular appearance.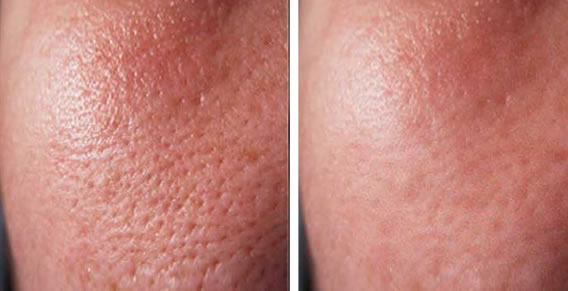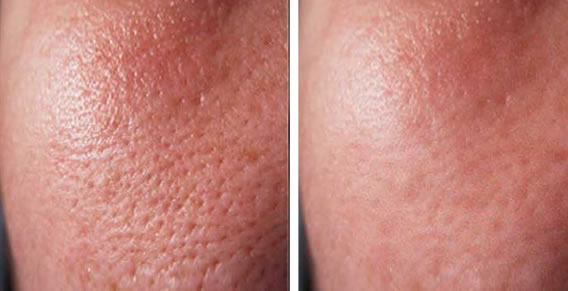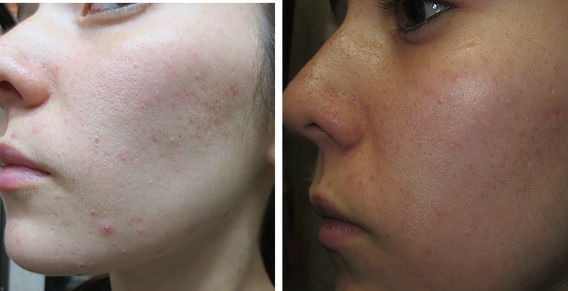 Reduce Fine Lines and Wrinkles
After using the LUCE 180 and the first layer of your skin becomes clear of dirt, sebum, and debris, you'll see your skin care products more fully penetrate more quickly and easily. The benefits of their formulations will then more quickly work restore perfect skin, leaving it luminous, soft, bright, and brilliant.