More Information
Product Features

Lumidesign iMira LED Vanity Mirror has a Color Rendering Index (CRI) of 93, making it an exceptional choice for skincare use. The mirror glass is 5x and there's a 10x magnetic spot mirror for extra-close detail work.
The 8" mirror glass is rully adjustable, and has a touch sensor for on/off control. Dimming is accomplished by touching the rear of the stand, and three light settings, Natural (3,000k), Bright (5,000k), and Warm (2,700k), are adjustable by touch sensors on the front of the stand.
The mirror is rechargeable via the USB cord and AC adapter, both included. A full charge will last up to 4 or 5 weeks. The 10x spot mirror can be used for travel in the included travel pouch.
Overall Dimensions: 15.75" High x 9.5" Wide x 5.12" Diameter base - weighted and padded. Finished in Pearl White.
CE Certification means the mirror is manufactured to European Economic Area standards. 3-Year Manufacturer's Warranty.

Country of Manufacture
United States
Finish
White
Magnification
5X
Power Source
Battery
W
ith a Color Rendering Index (CRI) of 93, Lumidesign's iMira delivers exceptional color quality that's perfect for professional quality skincare. The light output is 1,100 Lux, which is roughly equivalent to 1,100 Lumens, but a more precise measurement. See
Lux vs Lumen
for a complete explanation. At the bottom of the mirror glass you can see the sensor which is touch sensitive for on/off control. Dimming and brightness is adjusted by touching the rear of the mirror stand. Lighting is also adjustable for Natural, Bright, and Warm settings. The mirror is rechargeable with the USB cable included, and once charged the battery life will last up to 4 weeks. The high-definition mirror glass has a large 8-inch diameter and a magnification power of 5x with full tilt and swivel. The magnetic spot mirror has a 10x magnification power.

H
edquartered in Richmond Hill, Ontario, Lumidesign specializes in large backlit and TV mirrors. Recently, Lumidesign has entered the vanity mirror field, producing products with its customary top quality built in.
Widely known in Canada, Lumidesign has installations in more than 12 national hotel chains, as well as numerous retail outlets and corporate showerooms. Lumidesign is now available in the US.
Lux and Lumens - What's the Difference
Most of the time Lumens are given in the light specifications, but sometimes it's in Lux. What's the difference?
Lumen
The Lumen rating indicates the total amount of light emitted by the source of light, no matter what direction - or all directions - in which the light is emitted. An indication of efficiency is the Lumen:Watts ratio. In other words, howe efficiently the light source converts the electricity into light. With LEDs the Lumen to Watt ratio is very high because less electricity is required to produce light.
Lux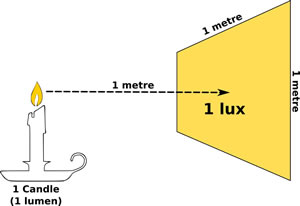 Lux is used to measure the light output in a specific area. 1 Lux is equivalent to 1 Lumen per square meter. It's a measure of the total "amount" of light visible, and the intensity of illumination on a surface.
The main difference between Lux and Lumen is that Lux considers the area over which the Lumens are spread. 1000 Lumens within one square meter illuminates the square meter with 1000 Lux.
Lux
can
be converted to Lumens with some complicated math.
Summary
Think of Lumens as the total light output and think of Lux as a measure of light intensity.