F
unctional and long-lasting, The Miroir Brot Infini C24 follows after it's spot-lighted predecessor from 1927.  The C24, however is halo-lighted with a long-lasting, bright, color-corrected LEDs.  The lighting color ("lumiere du jour") closely approximates daylight and is suitable, therefore, for applying makeup.  Finished in Polished Nickel with rocker on/off switch at the rear.
Shipped to you directly from the Paris, France factory.




More Information
Product Features

Miroir Brot Halo-Lighted 9.5" Diameter double-extension-arm mirror is made by hand in Paris, France. EXTREMELY LIMITED QUANTITIES.
Bright LED "halo" lighting at the edge and surrounding the magnification section of the mirror glass with a rocker on/off switch at the rear of the mirror housing.
The mirror's maximum extension 17.3" and the swivel arms allow left-right movement through 180 degrees, while the mirror "head" tilts up and down; you can get the perfect viewing angle.
Magnification is 5x, not reversible. Finished in Polished Nickel with White casing. UL Listed.
Shipped to you directly from Paris, France via FedEx International Express in about 21 days.

Length
20
Country of Manufacture
United States
Finish
Polished Nickel
Magnification
5X
Power Source
Hardwired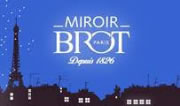 Found in the archives of the Manufacture de Saint Gobain, in the 18th century it can be found that François Brot, founded the establishment in 1826, in the heart of the Old Paris, near the historic Place de la République. Immediately, Miroir Brot achieves a great degree of success becomes the preemminent manufacturer it its field, in France and throughout Europe.
In 1875, Brot created and patentented a completely revolutionary mirror - the triple mirror. It instantly realized world-wide notoriety. Connisseurs referred to this ground-breaking mirror simply as 'un miroir Brot'.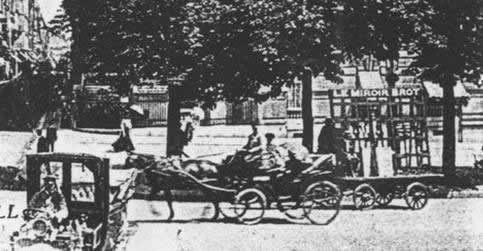 In 1927, Brot innovated again by creating the magnifying illuminated mirror. The "Mirophar" was born. The initial thrust was to equip automobiles, it ws in luxury hotels that Mirophar acquired its fame. Rather than a cheap gizmo, the amenity brought to the hotel guest, more than he expected for a meticulous make-up application or shave - especially with advancing age and declining eyesight.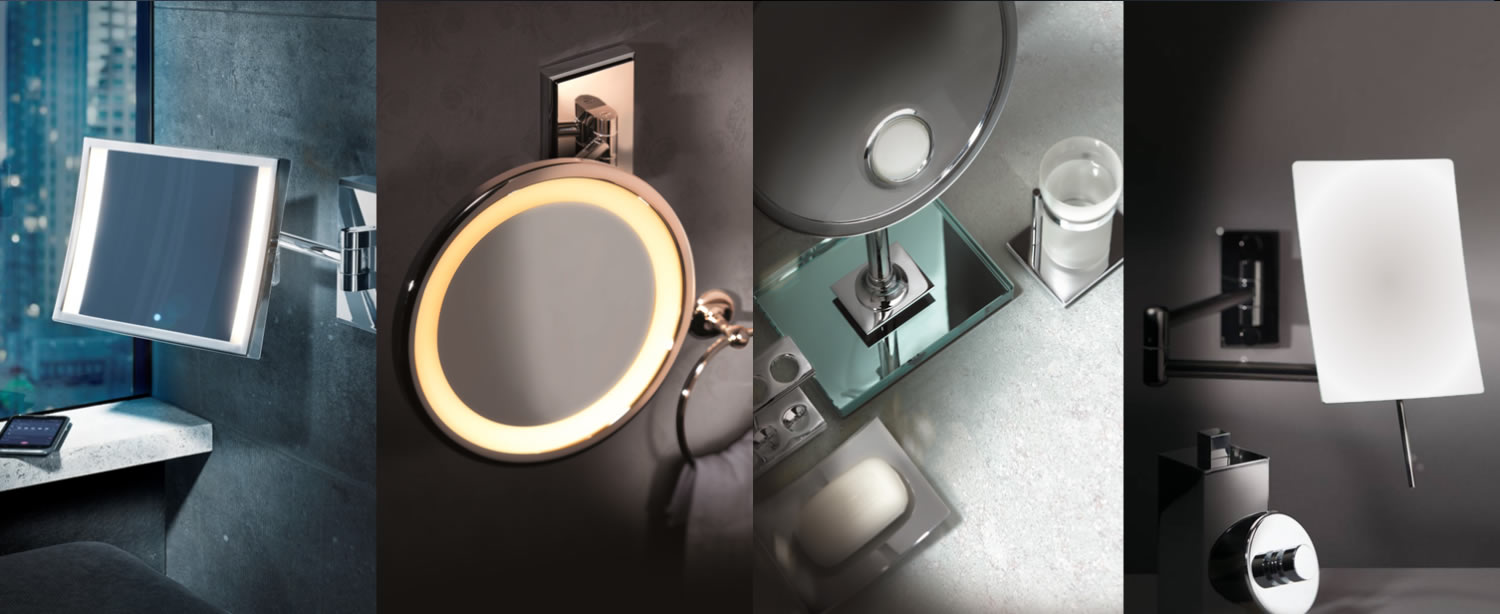 The "spotlight" was revolutionary and designed into the mirror surface, prevented the mirror from fogging.
Still manufactured at the Brot workshop in Paris after almost two hundred years, Miroir Brot carries on the age-old tradition of glass and copper brass working. Brot master glassmakers and brass craftsmen, following ageless techniques and know-how, create a wonderful and prestigious collection of mirrors.
The consistent and unequaled quality of Brot's mirrors sets the standard for the world.

The Art of Finishing
Since its inception in 1826, the Maison Brot manufactures only the finest magnifying mirrors. And still today, The Brot mirrors are the standard of the world. To attain this degree of quality, four steps of meticulous processing is required .
Polishing to obtain a perfectly smooth surface:
To produce a shiny mirror that's flawless and totally smooth, polishing is an indispensable technique used to make Brot mirror finishing unique, homogeneous, shiny, and free of porosity.

To obtain the desired result, the polishing drums technique is used: The part to be polished is hand-held against the surface grinding and polishing wheels with discs of various materials including cotton, sisal, tampico, rope, and composite synthetic fibers. The wheels rotate at a high speed of approx 9,750 ft/minute and are generally coated with polishing paste.

Nickel Electroplating: The fusion of aesthetics and technology.
The electrolytic nickel plating is the most important step. Before a final finish can be applied, the nickel plating forms a barrier against corrosion.


Galvanic technique:
Galvanic electroplating is used to electrolytically deposit metals on substrates prepared in advance. Through this process high-end and noble metals are applied to Miroir Brot arms, brackets, and frames. Metals examples are chromium, nickel, and gold.

This technique has the end result protection of Miroir BROT mirrors against corrosion, and oxidation - whether by contact with air or moisture; and gives a protection against aging.

Miroir BROT uses this technique for its decorative effect to give BROT mirrors the aesthetic properties that make artistic elements, and decorative designs for your home.

Gilding: The symbol of wealth.
Gold is still considered the symbol of wealth and luxury. Gold is soft, ductile, and malleable. It is principally used for decorative effect, but as a noble metal it has an extraordinary resistance to oxication and corrosion. Miroir Brot as point of honor, maintains this symbol of wealth by using pure 24 carat gold for its gold finished products.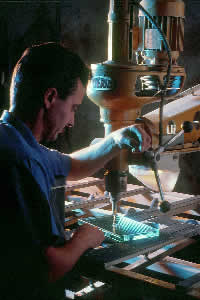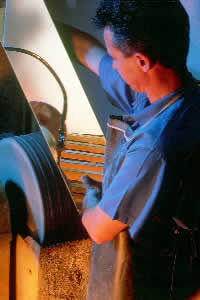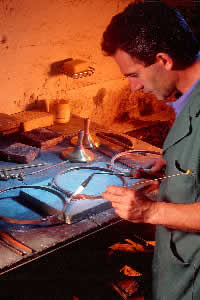 Electrician's Hardwired Makeup Mirror Mounting Instructions
• Hardwired mirrors should be installed by a licensed electrician.

• We strongly recommended that installation only be done when the mirror itself is at hand, and the ultimate user is available for mounting height determination.

• Install a 4" octagon box on a GFCI line or on a line where a GFCI outlet is installed, or both. The box should be flush with the mounting surface at a height determined by the user. The box should be capable of supporting 15 lbs. The mirror doesn't weigh 15 lbs., but remember it may be on an arm as long as 20". Note that the center of the mirror is usually 1/2" to 6" higher than the mounting-plate center. All of our hardwired makeup mirrors have the switch contained within the mirror mounting plate, mirror base, or mirror housing. No other switch is required. Also note that each of our single and double arm wall mirrors tilt vertically and swing horizontally.

• Hardwired mirrors, once wired, are no longer eligible for refund.
LED Quick Facts


LED stands for Light Emitting Diode
Reduced Energy Use
• LED Lighted Mirrors Use Tiny Amounts of Electricity
• Emitting the equivalent amount of light, LEDs typically use 50% of the electricity
consumed by a fluorescent bulb and about 17% of the electricity
consumed by an incandescent (regular) bulb.

Light for a LIFETIME?
LEDs operate an average of 50,000 hours.
• Standard incandescent bulbs operate an average of 1,500 hours
• Standard fluorescent bulbs operate an average of 8,000 hours
• LEDs operate an average of 50,000 hours.
• 33 times as long as a standard incandescent bulb.
• 6.25 times as long as a standard fluorescent bulb.
• More than 40 years of 2-1/2 hours of use, every single day.
Almost No Heat Generation
•Incandescent bulbs get hot quickly and generate lots of heat
•Fluorescent bulbs are much cooler than incandescents, but still warm.
•LEDs generate very little heat.