More Information
Product Features

More Hair Naturally 9 - Triple Stem Cell & Peptide Complex - 1.7 fl. oz. - 2-year shelf life.
Contains advanced, innovative, and powerful ingredients for thinning hair.
100% Natural, with no side effects.
You deserve thicker, fuller, healthier hair. Get it with More Hair Naturally 9.

Net Weight
N/A
Country of Manufacture
United States
Size
1.7 fl. oz.
E
very once in a while, a staggering leap in science is made.  For hair care, More Hair Naturally's 9th generation formula made that leap.  It combines all modern research and developments and comprises extremely powerful and innovative ingredients, the newest available, in combating thinning hair.  It's an easy-to-use topical treatment that may be the planet's most potent product for thinning hair.  It's water-based and 100% natural with no side effects.
Principal Ingredients
Stem Cells - 3 types




Adult Human - adipose-derived-adult fat cells
Mountain Ginseng Root
Bamboo Sprouts
These ingredients are the top three most effective ingredients for thinning hair.  Stem Cells create other stem cells as well as specialized cells for a variety of functions.
Ingredients
Water/Aqua
Aloe Barbadensis (Aloe Vera) Extract*
Epilobium Angustifolium Flower/Leaf/Stem Extract (naturally derived)
Hyaluronic Acid
Nicotiana Benthamiana sh-Oligopeptide-2**
Nicotiana Benthamiana
Hexapeptide-40 sh-Polypeptide-9**
Nicotiana Benthamiana Hexapeptide-40 sh-Polypeptide-86**
Panthenol (Pro-Vitamin B5)
Yeast Extract (naturally derived from Azalea flowers)
Pisum Sativum (Pea) Sprout Extract (naturally derived)
Ocimum Basilicum Hairy Root Culture Extract (naturally derived)
Syringa Vulgaris (Lilac)
Leaf Cell Culture Extract (naturally derived)
Hydrolyzed Kale Protein (naturally derived)
Hydrolyzed Carrot Protein (naturally derived)
Hydrolyzed Lemon Protein (naturally derived)
Mentha Piperita (Peppermint) Oil (naturally derived)
Menthol
Polysorbate 20 (naturally derived)
Maltodextrin (naturally derived)
Ethylhexylglycerin
Phenoxyethanol
Sodium Benzoate
Alcohol
*Certified Organic **Derived from Wild Plant technology
---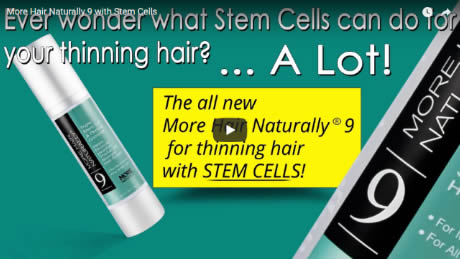 Directions
Apply at any time, night or day.  Apply to a dry scalp or to a towel-dried scalp after shampooing.   It is not necessary to shampoo between applications.  Hold the nozzle 1 inch to 2 inches from the scalp and use 4 or up to 8 sprays to cover the entire scalp. One bottle can last 1 to 3 months.  Then massage gently into the scalp with finger tips for 30 seconds.  It is suggested that the lotion remain on the scalp for a minimum of 4 hours.  A slight tingling sensation or redness may occur - this is normal and will last only a few minutes.  Stem cells are sensitive.  Because of that it is best not to use any hair products containing alcohol 4 hours before and after the application of More Hair Naturally® 9 as it may damage the stem cells.  If you use hair products containing alcohol we advise applying More Hair Naturally® 9 prior to bed.  Benefits are cumulative with consistent use.

More Hair Naturally® 9
Treatment Results and Testimonials

Testimonials are independent of the photos.
Before start.
After 9 months.

"I saw a dramatic improvement in my hairline..."

"I had always been skeptical of products advertising to stop and reverse hair loss, but when I saw that my hair was definitely thinning, I decided to give More Hair Naturally a try. After using it for just 2 weeks, I saw a dramatic improvement in my hairline and in the thickness of my hair. I cannot recommend More Hair, Naturally enough. You can actually feel it working when you apply it! The results are amazing!"* ~J.F.B., California

Before start.
After 4 months.

"Today, the bald spot is almost completely filled in..."

"I began researching More Hair Naturally online and decided to try the Intensive Scalp Serum and Shampoo. I began to see some slight regrowth in spots that I've never seen regrowth before, but it just wasn't enough. I was introduced into the More Hair Naturally 9 Program and purchased a few bottles. I have now been using it for 2-months and have seen some amazing results. I use the scalp serum in the morning, and then 3 sprays at lunch and 3 sprays in the evening. I just started my second bottle.... you can see on the top where there are hair follicles starting to grow back! It was really in the past 30 days that I started seeing some visible growth. I am hoping that this success will continue and eventually have my crown fill in completely!"

[A few months later...]

"I have hit the 9-month mark and wanted to share my results. The results speak for themselves and I could not be happier. What an amazing product. At 9-months, I continue to see results and the hair is filling in nicely. Back in November, you could clearly see the skin on my scalp and there was little if any hair in the bald spot (size of a softball). Today, the bald spot is almost completely filled in and the hair continues to become denser by the week." I continue to use 3 sprays of the More Hair Naturally 9 in the morning and 3 sprays at night. I use the Intensive Scalp Serum once every 3 days."* ~M.R., Michigan

Before start.

After 6 months

"As a doctor..."

"As a Doctor board certified in Natural and Integrative Medicine for more than 30 years, and a strong academic background in the sciences, I won't say that I was skeptical of re-growing my hair, but more of an indifference about it, accepting my male-pattern baldness. It is genetic and unavoidable in my family line. I used the More Hair Naturally product more as a test subject than with the interest of growing hair back, and after a number of months, noticed a definitive change. The thin and sparse, almost baby-hair on the top of my head in front of the completely bald area, has transformed into real , darker, hair. Still sparse, but an amazing improvement in appearance, and the diameter of the fully balded area has decreased as well.

I have been interested in the applications of using live stem cells for various regenerative purposes in the body, and am convinced that this is what makes this spray so effective. Basically I was doubtful that with my inherited (and verified with genetic testing) baldness, there would be much of a change, and have been very surprised and well pleased with the result. Furthermore, I enjoy the sense of vitality and aliveness in my scalp I feel when I apply More Hair Naturally 9."* ~Dr. R.N., DC, BCIM


"We all know how important a woman's hair is to her self image..."

"I have been using the More Hair Naturally®9 for 4 1/2 months. We all know how important a woman's hair is to her self image. I was so depresses over my hair loss, that I purchased wigs. My hair loss was so bad I couldn't style it to cover the thinning and bald spots... I started using More Hair Naturally® 9, about 3 months later I had friends asking what I was doing. They couldn't believe how thick my hair was! They were touching it in disbelief! I am seeing new growth with every shampoo. I was always afraid of washing my hair for fear of the fall out, not any more. I would recommend this product to everyone. This is not just for thickening / volume, I have actual new growth. Even my beautician has said that my hair thickness has been better each month since I've started with the More Hair Naturally® 9. But she does not know why... I haven't told her why."* ~D.W., MO
Before start.
After 4 months.

"I am female..."

"I am female, 60 years old and had hair loss due to a combo of menopause and some meds that contained steroids. I was losing it in the back, the crown area. That area was about 75-85% of thinning. I saw the More Hair Naturally products on the internet and what struck me was the ingredients that they were using, which is hard to find in other products and websites. The actual ingredients, I mean. More Hair Naturally was right up front about it and I consider stem cells to be cutting edge technology in treatment of hair condition(s). I purchased a 6 month program of the More Hair Naturally 9 and the Intensive Scalp Serum, but began seeing results in about 4. The volume of my hair is thicker and the area on the crown is now over 90% filled in."* ~J.S., Indiana
Before start.
After 9 months.

"Having male pattern baldness on both sides of my family..."

"Having male pattern baldness on both sides of my family going back generations I got an early start on trying to retain my hair. By age 29 I lost at least 10% of my hair and it was going fast! I was an early adopter of Minoxidil when it was first offered for hair loss on a prescription basis. Over the years it became apparent that it was not keeping up with my receding hairline and thinning crown. After hearing a radio ad about 5-years ago, I began using a natural product, designed to stop DHT. Through the company's changes and product developments, More Hair Naturally 9 has thus far foiled my genetic predisposition to be a bald guy.

The experience has not been without periodic heartburn. Each time the product changed and improved I started losing hair again and called customer service in a panic. They did a terrific job of explaining the transition and what to do differently until my chemistry adapted to the new formula. Ultimately the hair loss subsided and we were back to maintenance mode in a couple of months.

Now, at age 60, I can attest to the efficacy of the product and the terrific service that comes with it."* ~P., TX


"Making my hair sprout like weeds..."

"I've been using the different products for over ten years with good to moderate results. This latest stuff, the 9, is making my hair sprout like weeds. It's unbelievable."* ~D., California


"I'll be 80 this year..."

"I'll be 80 this year and Iím growing hair. I can't believe it."* ~B.L., NY
Before start.
After 2 months.

"Fullness and the new hairs coming in..."

"It's only been two months and IT IS working! My hair used to lie flat because it was so thin. Now when I comb it back, it's like a pillow, that's the only way I can explain it, because of the fullness and the new hairs coming in. I can see them and it gives me that pillow effect. That's why I want to carry it in my salon."* ~ M.G., NY


"I'm seeing significant progress.."

"Using The More Hair Naturally 9 with the Intensive Scalp Serum is giving me amazing results. Prior to this combo, I was just maintaining my hair and now I'm seeing significant progress. I use one in the morning and the other in the evening. Simple and easy!"* ~ P,Ohio
Before start.
After 9 months.

"My hairline has improved with new hair growing..."

"I have been using your product for four months now, and here are the results so far. The hair on top of my head was starting to thin. This has improved to the point where it's now difficult to see the previously thinning area. But the most surprising thing is that my hairline has improved with new hair growing, and still growing at the front and temples where I have been slowly receding for about 10 years. I can say without a shadow of a doubt that I have denser hair than I did five years ago and it is still improving. What makes it even more remarkable is that I am in my late fifties. I wish it had been available sooner."* ~P.D. United Kingdom
Before start.
After 1 months.

"My son's alopecia areata..."

"My son's alopecia areata is getting better. The areata went from a dime size to a quarter size and is now back to a dime size. It's closing up, hair is regrowing and things are looking good for him!"* ~R.G., Illinois
Before start.
After 3 months.
Before start.
After 3 months.
The More Hair Naturally® Story

Individual results may vary.
"What if we took all these incredible and powerful ingredients and put them into one product..."
The MHN team was looking for a non-invasive solution for falling out and thinning hair that was all natural. Everything they found either required surgery, or a drug with possible side effects. These were not the all-natural solutions sought after. Although there were some natural supplements and herbs found, none produced dramatic results. The team began to study modern medical journals world-wide to discover current research in hair improvement. After significant "leg-work" the team found some incredible information. Scientists around the world were getting results. In Switzerland they were using Stem Cells and Redensyl™. In France, amazing results were achieved with Capixyl™; and Baicapil™. Great strides were also being achieved with Peptides, Hyaluronic Acid, and with some particular nutrients. All of these ingredients were all natural and through clinical trials significan results were achieved in both the look and condition of subject's hair. From these data, the MHN team got the idea to put multiple powerful ingredients into a single product. They did this without changing the clinical doses that produced results in the clinical studies. And thus was born More Hair Naturally® 9.
MORE HAIR NATURALLY'S GOAL
More Hair Naturally® seeks to achieve a natural way to give you the thicker, fuller and healthier looking hair you deserve and to do it naturally. MHN has a goal to aid in restoring the self confidence, happiness, vitality and gusto for life to those who currently feel disappointed, let down and who are not confident in their appearance.
YOUR HEALTH
What's the point of having great hair if you are too sick to enjoy it? Unfortunately, there are too many products in today's world that are created to grow hair, but which are extremely harmful to your health. Even though they may achieve results, they may also put toxic chemicals and drugs into your body. You may experience side effects like skin irritation, sexual disfunction, or serious illnesses. It is for this reason that More Hair Naturally® created a 100% natural solution for your hair. MHN promises that More Hair Naturally® products will not contain any product not proven to have no adverse effects on your body. Their products will always be free of Parabens, Propylene Glycol, Sodium Lauryl Sulfate, Formaldehyde donors or added preservatives!
OUR PLANET
More Hair Naturally quotes Einstein who once said "It is man's obligation to give back to the world the things he takes out" and they stand behind that statement.
More Hair Naturally® 9
Complete Ingredients
Deionized Water
Human Stem Cell Conditioned Media
Acetyl Tetrapeptide-3 (CAPIXYL â"¢ )
Trifolium pratense (Clover) Flower Extract (CAPIXYLâ"¢ )
Glycerin
Arginine
Hyaluronic Acid
Panax Ginseng (Wild Mountain Ginseng) Meristem Cell Culture Extract Phyllostachys pubescens (Bamboo Sprouts) Meristem Cell
Culture Extract
Lactic Acid
Glycine soja (Soybean) Germ Extract
Triticum vulgare (Wheat) Germ Extract (BAICAPIL â"¢ )
Scutellaria baicalensis Root Extract (BAICAPIL â"¢ )
Glycine
Larix europaea Wood Extract (REDENSYL ®)
Sodium Metabisulfite
Zinc Chloride
Camellia sinensis (Green Tea) Leaf Extract (REDENSYL® )
Copper Tripeptide-1
Panthenol (Pro-Vitamin B5)
Hydrolyzed Quinoa Protein
Water, Hansenula/Kloeckera/Lactobacillus/Lactococcus/Leuconostoc/ Pediococcus/Saccharomyces/Fig/Lemon Ferment, Isododecane,
Sorbitan Monoleate, Carboxymethylcellulose NA, Chitosan, Citric Acid
Polyglyceryl-5 Oleate
Mentha piperita (Peppermint) Leaf Oil
Menthol
Benzyl Nicotinate
Phenoxyethanol
Ethylhexylglycerin