T
he Accelerator is a scalp cleanser specially designed to remove impurities from the scalp.  The number of things that can build up is surprising including mineral deposits such as Calcium from water, pollutants, chemicals from hair styling products, wax/sebum and more unwanted debris.  In the Accelerator, finely ground European olive seed is combined with Sodium Hyaluronate to produce an exfoliator that also absorbs impurities and hydrates the skin.  The Accelerator can also be used on the face, as a cleansing mask, or a shave gel for men's faces or women's legs.  It is generally used 1 or 2 times per week in the shower, similar to a hair conditioner.  Free of parabens, phnoxyethanol free, sodium lauryl sulfate free, and no formaldehyde donors or preservatives added.
---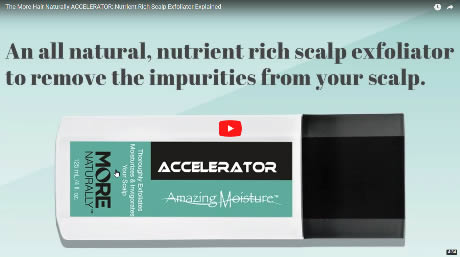 Directions
Use Before Shampooing.  First, thoroughly wet the scalp then apply Accelerator to the scalp.  Massage well and leave on for 3-5 minutes  Massage again during the rinse process, thereby thoroughly removing unwanted debris and residue.  After rinsing, shampoo and condition as usual.
Ingredients
Water; Hydroxypropyl Starch Phosphate; Cetyl Alcohol; Quaternium-87; Behentrimonium Chloride; Olea Europaea Extract (Olive); Sodium Hyaluronate; Cocodimonium Hydroxypropyl Hydrolyzed Wheat Protein; Vaccinium Myrtillus Extract (Bilberry); Olea Europaea Seed Powder (Olive); Saccharum Officinarum Extract (Sugar Cane); Citrus Medica Limonum Extract (Lemon); Citrus Aurantium Dulcis Extract (Orange); Acer Saccharinum Extract (Sugar Maple); 1,2-Hexanediol; Caprylyl Glycol; Sodium Phytate; Sodium Hydroxide; Isopropanol; Fragrance

More Information
Product Features

More Hair Naturally® all natural and nutrient rich scalp exfoliator. 4 fl. oz.
Removes impurities from the scalp. Aids in the use of More Hair Naturally® Intensive Scalp Serum.
Hydrates the skin and can be used on the face to clean and hydrate.
Useful as a shave gel for both men and women.

Net Weight
N/A
Country of Manufacture
Italy
Size
4 fl. oz.
The More Hair Naturally® Story

Individual results may vary.
"What if we took all these incredible and powerful ingredients and put them into one product..."
The MHN team was looking for a non-invasive solution for falling out and thinning hair that was all natural. Everything they found either required surgery, or a drug with possible side effects. These were not the all-natural solutions sought after. Although there were some natural supplements and herbs found, none produced dramatic results. The team began to study modern medical journals world-wide to discover current research in hair improvement. After significant "leg-work" the team found some incredible information. Scientists around the world were getting results. In Switzerland they were using Stem Cells and Redensyl™. In France, amazing results were achieved with Capixyl™; and Baicapil™. Great strides were also being achieved with Peptides, Hyaluronic Acid, and with some particular nutrients. All of these ingredients were all natural and through clinical trials significan results were achieved in both the look and condition of subject's hair. From these data, the MHN team got the idea to put multiple powerful ingredients into a single product. They did this without changing the clinical doses that produced results in the clinical studies. And thus was born More Hair Naturally® 9.
MORE HAIR NATURALLY'S GOAL
More Hair Naturally® seeks to achieve a natural way to give you the thicker, fuller and healthier looking hair you deserve and to do it naturally. MHN has a goal to aid in restoring the self confidence, happiness, vitality and gusto for life to those who currently feel disappointed, let down and who are not confident in their appearance.
YOUR HEALTH
What's the point of having great hair if you are too sick to enjoy it? Unfortunately, there are too many products in today's world that are created to grow hair, but which are extremely harmful to your health. Even though they may achieve results, they may also put toxic chemicals and drugs into your body. You may experience side effects like skin irritation, sexual disfunction, or serious illnesses. It is for this reason that More Hair Naturally® created a 100% natural solution for your hair. MHN promises that More Hair Naturally® products will not contain any product not proven to have no adverse effects on your body. Their products will always be free of Parabens, Propylene Glycol, Sodium Lauryl Sulfate, Formaldehyde donors or added preservatives!
OUR PLANET
More Hair Naturally quotes Einstein who once said "It is man's obligation to give back to the world the things he takes out" and they stand behind that statement.