More Information
Product Features

A multivitamin for the skin, correcting signs of aging while nourishing the skin.
20% Concentration of Inca Inchi Oil contains the perfect balance of Omega 3's, 6's, and 9's.
Contains Hibiscus Oil - a phenomenal anti-oxidant.
Norwegian Spruce Extracts, rich in lignans that are similar to flax seed oil provide a stable anti-oxidant property.
Suitable for all skin types. A dime-sized application serves as part of a daily anti-aging routine.

Net Weight
N/A
Country of Manufacture
Canada
Size
0.5 fl. oz.
N
atrèceutique's Calm in the Evening is designed to help correct the appearance of the signs of aging while nourishing the skin from the inside, like a multivitamin.
Part of a holistic approach to self-care, Calm in the Evening contains a 20% concentration of Inca Inchi Oil and Hibiscus Oil.  These provide the ultimate in superb skin nourishment.  Inca Inchi Oil comprises the perfect ratio of Omega 3, 6, and 9.  Hibiscus oil is chock full of anthrocyanins - powerful polyphenols responsible for giving berries their bright coloration and their anti-oxidant capabilities.  Also contained are Norwegian Spruce Extracts, rich in lignans (similar to flax seed oil) providing a stable anti-oxidant property.  And from a single-celled organism found in the Sahara Desert, Ectoins are included for their anti-oxidant power.
Use for all skin types as part of a daily, anti-aging regimen.  Natrèceutique's Holistic Collection products are designed to be used as part of a balanced skin care routine, providing skin nourishment along with well-rounded anti-oxidant power.
After cleansing, as part of a nighttime routine apply a dime-sized amount on a dry face.  If used in the morning, apply before sunscreen.
---
Ingredients
•  Aqua    •  Plukenetia Volubilis Seed Oil*    •  Hibiscus Sabdarrifa Oil    •  Polyglyceryl-6 Distearate*    •  Jojoba Esters*    •  Polyglyceryl-3 Beeswax*    •  Cetyl Alcohol*    •  Propanediol*    •  Saccharomyces Grape Ferment Extract    •  Curcuma Longa (Turmeric) Root Extract*    •  Glycerin    •  Diglucosyl Gallic Acid    •  Picea Abies Extract*    •  Caprylhydroxamic Acid    •  1-2 Hexanediol    •  Xanthan Gum   
* Denotes Ecocert (R) certified organic ingredient.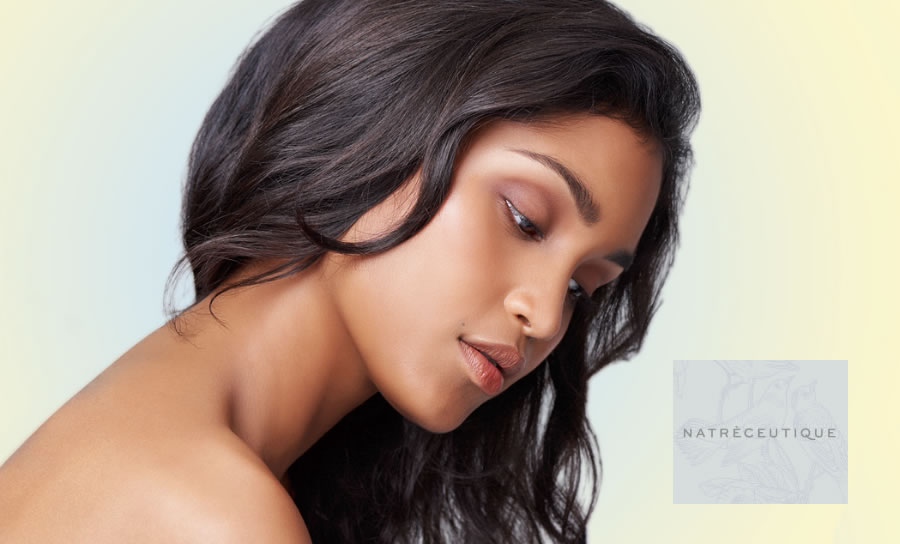 Natrèceutique - Nature Distilled
Natrèceutique brings together the world of medical dermatology and the natural world. Indeed it's a founding principle that both disciplines can be shared to create products to make skin beautiful. In other words, if a dermatologist were to create a luxurious skin care line, it would be like that of Natrèceutique, which means...
Zero irritants
: Natrèceutique keeps it simple. They don't add a bit of this and a bit of that in their formulae for style - i.e., no fragrances (natural or synthetic), no essential oils, and no allergens.
For the
dermatologist
, Natrèceutiqueprovides products to assist with the most common issues they treat, while at the same time preventing concerns and nourishing the skin as part of a holisitic approach.
Natrèceutique
focuses on efficiency
, using natural active ingredients and using them in high concentrations. And their processing is monitored, avoiding byproducts and harsh solvents- preserving the integrity of the natural active ingredients.
Natrèceutique's mission
is to meld medical cosmeceuticals and the green beauty movement; to create highly functional and all natural, luxurious skin care products. They are differentiated from most other green beauty producers by focusing on dermatological principles and efficacy while not infringing on the natural principles of authenticity and transparency. This is what is meant by "nature distilled" in its most pristine form.