More Information
Product Features

Concentrated humectant-based serum with 5% Date Extract calms and soothes the skin.
Provides anti-aging and anti-inflammatory benefits.
Excellent free radical scavenging properties while improving micro-circulation of the skin for improved under-eye darkness and roseacea.
Intense skin hydration is provided by a natural humectant from fermented corn sugar.
Suitable for all skin types. A dime-sized application serves as part of a nightly anti-aging routine.

Net Weight
N/A
Country of Manufacture
Canada
Size
0.5 fl. oz.
T
he "secret" to Natrèceutique's Intensive Soothing Serum is that it contains a concentrated, humectant-based serum with a 5% Date Extract.   It calms and soothes the skin while providing intense hydration.
A re-planted 2000-year-old date seed was used to grow and cultivate date palm trees.  It's from these trees that the Date Extract is sourced.  The palm trees, when harvested, have been shown to have superior free-radical scavenging properties.  The Date Extract has also been shown to improve micro-circulation within the skin allowing minor correction for under-eye darkness and for roseacea.  And finally the Date Extract has also been demonstrated to impart calming relief for minor skin irritations and redness.
This serum is oil-free and uses a natural fermented corn sugar that acts like a "magnet" drawing water to the skin for hydration.  It can be used daily; is perfect for an anti-aging regimen and for anti-inflammatory benefits.  To improve the appearance of under-eye circles and to it can be used for hydration in that delicate area.
To Use
:
Intensive Soothing Serum is designed to be used for all skin types as part of a well-rounded skincare routine, providing deep hydration with targeted skin benefits.
• Apply a dime-sized amount on a dry face, after cleansing and a serum as part of your nighttime routine.
• For extra hydration or to wake up with a dewier complexion, apply up to a quarter sized amount.  However, it will sit on the skin overnight and will take longer to absorb completely. • Use on the delicate under-eye skin if desired, for hydration and improved appearance of under eye circles. • Should be used after a moisturizer to lock in water retention reducing trans-epidermal water loss through the skin.
---
Ingredients
•  Propanediol (Ecocert (R) certified Organic)    •  Aqua    •  Glycerin    •  Phoenix Dactylifera (Date) Seed Extract    •  Hydroxyethylcellulose    •  Polyglyceryl-3 Polyricinoleate    •  Caprylhydroxamic Acid    •  Caprylyl Glycol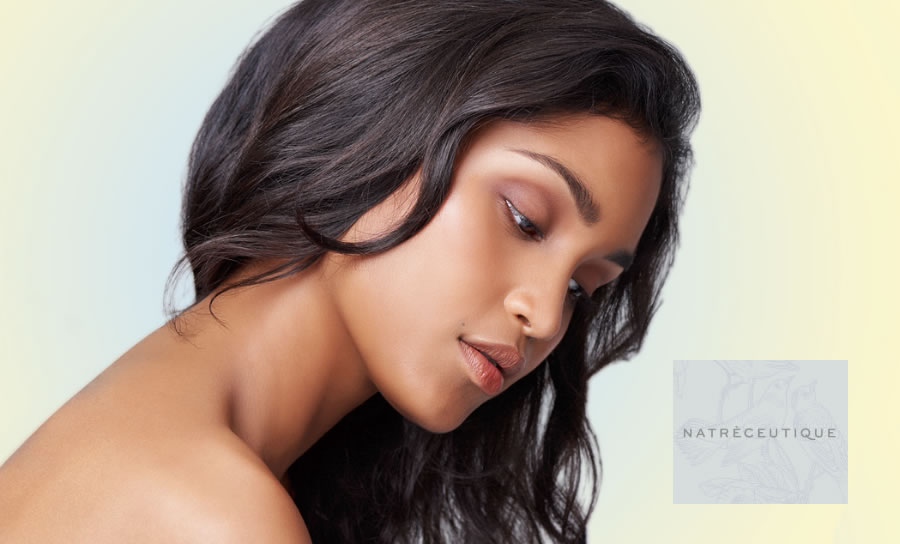 Natrèceutique - Nature Distilled
Natrèceutique brings together the world of medical dermatology and the natural world. Indeed it's a founding principle that both disciplines can be shared to create products to make skin beautiful. In other words, if a dermatologist were to create a luxurious skin care line, it would be like that of Natrèceutique, which means...
Zero irritants
: Natrèceutique keeps it simple. They don't add a bit of this and a bit of that in their formulae for style - i.e., no fragrances (natural or synthetic), no essential oils, and no allergens.
For the
dermatologist
, Natrèceutiqueprovides products to assist with the most common issues they treat, while at the same time preventing concerns and nourishing the skin as part of a holisitic approach.
Natrèceutique
focuses on efficiency
, using natural active ingredients and using them in high concentrations. And their processing is monitored, avoiding byproducts and harsh solvents- preserving the integrity of the natural active ingredients.
Natrèceutique's mission
is to meld medical cosmeceuticals and the green beauty movement; to create highly functional and all natural, luxurious skin care products. They are differentiated from most other green beauty producers by focusing on dermatological principles and efficacy while not infringing on the natural principles of authenticity and transparency. This is what is meant by "nature distilled" in its most pristine form.