More Information
Product Features

Highly concentrated serum with 39.75% active ingredients boosting collagen and elastin production.
Defends against UVA and UVB-induced damage and supports skinâ€s natural Vitamin D production.
Gently removes dead skin cells using natural exfoliators and helps reduce the appearance of fine lines and wrinkles.
Promotes skin detoxification and oxygenation, restoring skin vibrancy and reduces skin matrix degradation.
Shipped FREE within 24 hours in special protective packaging. With proper use should last for three months. 1 fl. oz.

Net Weight
N/A
Country of Manufacture
United States
Size
1 fl. oz.
S
ummer Serum Complex™ is concentrated at 39.75% active ingredients and 100% of the Complex is usable by the skin; absorbed by the skin without leaving any residue when using the suggested amount.  Used as recommended, the Complex should last three months.
This Complex is an antioxidant anti-stress treatment that protects the skin while augmenting cellular rejuvenation and oxygenation.  It also protects the skin and its DNA from extreme climatic stressors.  The globally-sourced, proprietary formula with Seasonal Actives™ helps to improve skin texture, tone, and overall health.  Summer Serum Complex fights stress, pollution and treats fragile, tired and dull skin. This unique formula uses the highest Ecocert, Natural and Non-animal-tested raw materials which give you seasonal summer benefits.
Each Replete seasonal serum is unique for Summer, Autumn, Winter and Spring.  Each one directly addresses the systems' vital needs in response to the skin's environment.  The serums are rich in anti-oxidants that improve skin tone; seaweed nutrients that stimulate cellular renewal; and powerful peptides to protect against UV damage while enhancing the skin's natural UV defenses.  Replete is not only ecosafe but minimally plastic-pollution oriented because of concentrates of ingredients and bio-actives of up to 99% in a single package that other companies dilute into 1% per package thus creating 99 plastic packages instead of one!
---
To use
:
Wash with Deep Clean Restore then apply immediately in a thin layer over face, neck and chest.  Instead of washing hands after appllying rub the remaining serum into the backs of your hands.
Videos Re:

Skin Care
The Replete™ Seasonal Skin Care Collection>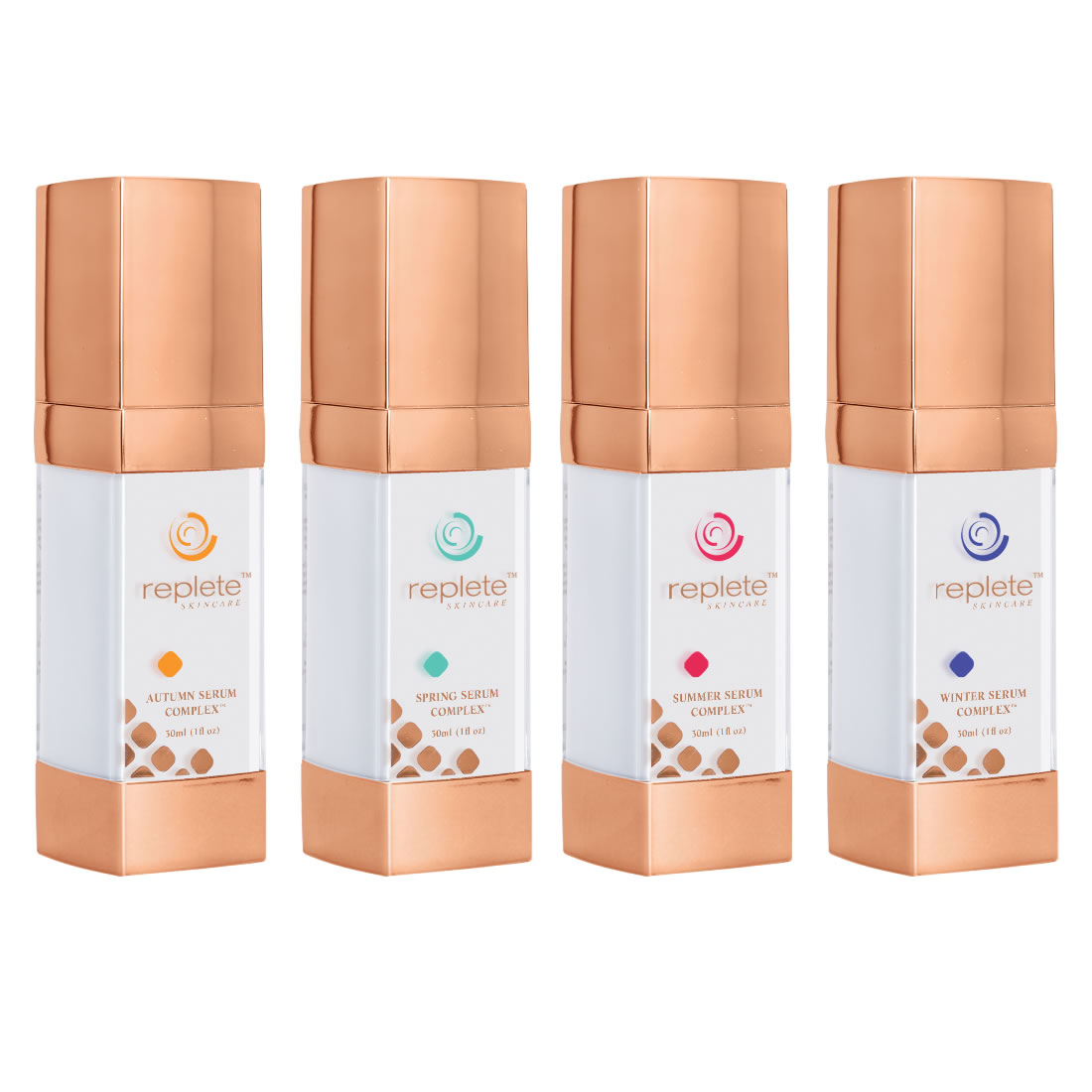 W
e change our wardrobes all year long; as it gets hot, then cool, cold, and warm again. It's a natural progression of the seasons. And we change with the seasons. Indeed, even our skin changes with each season, in response to the job it needs to do and in appearance.
The common factor in every season is sunlight and the manner in which our skin responds to it. Replete Seasonal Serums™ are design with their primary purpose to allow our skin to safely interact with sunlight. They keep what we don't need or want out, and at the same time permitting the elements we do need to enter in an nourish the skin. We need sunlight - our bodies interact with sunlight to get vitamins, minerals and natural nutrients unavailable from any other source. Synthetic sunscreens prevent us from receiving what our bodies naturally need, not permitting our skin to receive the vital nutrients and benefits of sunlight.
Replete Seasonal Complexes are designed to deliver to your skin, the vital nutrients it needs for each season; spring, summer, fall and winter.